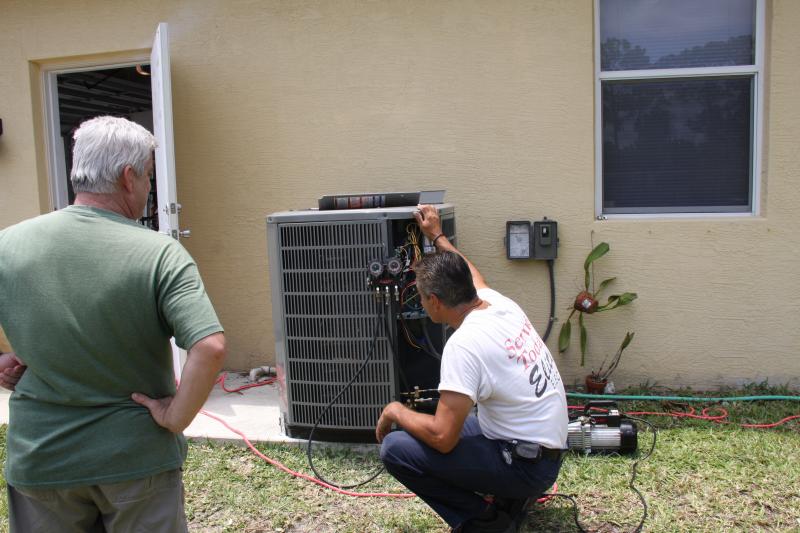 We provide the following services:
Central air conditioning systems...you plug 'em in, turn 'em on, sit back and enjoy the "cool." No worries, right?
If only things were that simple. But with Elite Electric Plumbing & Airin your corner, you'll worry a lot less knowing your cooling system is receiving the best care in the business.
It all starts with our annual system tune-up and inspection. Why is that so important? Consider the following:
Most AC repairs occur with systems that are at least 5 years old.
Complete system replacements are 35% more likely in the absence of ongoing maintenance.
Major system repairs cost $500 and more.
By keeping your system in top working order, you can cut your monthly energy costs by up to 25%!

So what exactly does an air conditioning system tune-up consist of? Ours is very, very thorough, and these are just some of the steps we employ:
Clean your filters, and replace them if necessary
Inspect condenser & evaporator coils
Inspect the blower motor & wheel
Inspect the safety controls
Lubricate and inspect all motors
Examine and calibrate refrigerant controls
Verify and adjust operating pressures
Verify proper amperage and voltage for your compressor, evaporator and condenser motors
It all comes down to this: would you wait two to three years in between oil changes for your car? Would you vacuum your floors and rugs only when you start making foot prints in the dust? Of course not. Well, requesting annual maintenance for your central AC system is every bit as important...for your ongoing comfort AND safety.
Expert Repairs, Too.
Even with the best and most regular system maintenance, air conditioning systems don't last forever. No mechanical object does.
When the need arises, you can count on us to be there, the same day you call, for the expert repair work your system requires.
Our technicians are highly trained, plus we repair all makes and models. Further, our trucks are like rolling warehouses, which means that more often than not, we'll have all the parts we need to complete the job with just a single visit to your home.
Fast response. And work done right...guaranteed. That's the Elite way of doing things.
System Types
At Elite, we design and install three major types of systems:
Central air conditioning
Ductless air - these are designed to cool up to 3 rooms in your home that central air can't effectively reach or serve. Ductless systems can be purchased for cooling alone, or heating and cooling combined. Like central ac systems, they feature an outside condensing unit which attaches directly to a wall mounted air blower. These are attractive and blend easily with your decor. Many of our customers use ductless systems in sun rooms, room additions, family rooms, and for other specialized applications
Heat Pumps - these are combined cooling and heating systems that offer far greater energy efficiency than two separate systems possibly can. At Elite, we design air source heat pumps which stand above ground and, to the naked eye, look just like a central AC system from the outside.
Whether you're planning to purchase a new AC system or simply want more from your existing system, here are just a few system enhancements you might want to consider.
Multiple zones so you are cooling the parts of your home in use at any given time.
Programmable thermostats so you're not wasting energy when no one's at home while still having indoor room temperatures nice and cozy by the time you return.
Humidification and de-humidification systems...another great way to feel more comfortable and reduce your heating and cooling costs. With proper humidity control, you can also control mold and bacteria growth, insect infestation, and other maladies when humidity levels are too high. And should your home get excessively dry, built-in humidification can prevent dry and cracked lips, static electricity, and general feeling of discomfort.
Variable speed control to help maintain temperature and humidity levels right where you like them.
Whole-house air filtration systems to remove up to 99% of all indoor air pollutants for easier and healthier breathing.
Contact Elite Electric Plumbing & AirTODAY at 772-236-6576 if you'd like to learn more about these and other home comfort enhancements.